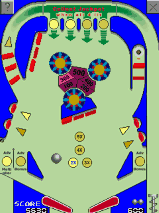 Porta-Pinball is a freeware pinball game for Pocket PC computers. It features realistic ball and flipper physics, powerful bumpers, flashing lights, and drop-down targets. It even allows nudging. Smooth animation and full sound effects round out the pinball-in-your-pocket experience.
The layout is simple, so the goals are easily learned, though not easily mastered.
Hit the bumpers and targets to advance the score.
Complete groups of bull's-eye targets to collect bonus points.
Complete groups of drop-down targets to advance the bonus multiplier and bumper values.
Lock the ball and receive an extra ball in its place.
Complete the top four roll-over lights to collect the Jackpot.
Porta-Pinball has fully-configurable button assignments and allows the speed to be set from childish to fiendish.
Compatibility
Porta-Pinball is intended to run on all Pocket PCs supported by the Microsoft GAPI game development library, including color and monochrome Compaq Ipaqs, 12-bit and 16-bit color HP Jornados, and all Casio Cassiopeias. Porta-Pinball should also run on any color or monochrome Palm-Size Windows CE 2.x device supported by GAMEX, an unofficial game development library. See the Issues and Incompatibilities section for reported problems.
Porta-Pinball attempts to support 256-color devices that have a settable palette, but neither GAPI nor GAMEX provide functions to set the color palette. Porta-Pinball's special palette-modifying code has been tested on the Nino 500 and HP Jornado 525, but hopefully will also work on other 256-color devices.
Porta-Pinball has been tested and is known to run on the following:
| | | |
| --- | --- | --- |
| Casio | Windows CE 2.11 | Cassiopeia E-100 and E-105 |
| | Pocket PC 3.0 | Cassiopeia E-115 and EM-500 |
| HP | Pocket PC 3.0 | Jornada 525, 545 |
| | Pocket PC 2002 | Jornada 568 |
| Compaq | Pocket PC 3.0 | upgraded Aero 21xx with special gx.dll or patch |
| | Pocket PC 3.0 | Ipaq 36xx, 31xx |
| | Pocket PC 2002 | Ipaq 3830, 3835, 3970, 1910 |
| | Pocket PC 2003 | Ipaq 2210, 2215, 2410, 1940 |
| Toshiba | Pocket PC 2002 | e310 |
| | Pocket PC 2002 | 2032 |
| Viewsonic | Pocket PC 2002 | V-35, V-37 |
| Dell | Pocket PC 2002 | Axim |
| Phillips | Windows CE 2.11 | Nino 500, 510 |
| Audiovox | Pocket PC 2002 | Thera |
| Samsung | Pocket PC 2002 and 2003 | i700 |
Binaries are available for MIPS, SH3, and ARM processors. Please notify webmaster@pocket.iwarp.com if your device is supported but is not listed here.
I have received little feedback as of yet from users of Pocket PC 2002 devices from Compaq and Casio and mostly negative feedback from Jornado 56x users (see Issues and Incompatibilities below). Casio Pocket PC 2002 users should upgrade to the newest GAPI, available at the Casio support web site before attempting to run any video games.
Pocket PC devices require GAPI version 1.2 or higher to be installed either in the \Windows directory or in the Porta-Pinball application directory. GAPI consists of a single file, gx.dll, that provides direct screen access to video games. It may have been pre-installed on your device or may need to be downloaded from Microsoft. GAPI versions preceding version 1.2 may cause Porta-Pinball to crash unexpectedly.
Issues and Incompatibilities
HP 700: Porta-Pinball does not support handheld computers (HP 700 series and others) to the best of my knowledge, due to the differing resolution of the handheld screens.
HP 56x: I have received very negative reports from Jornado 56x users that seem to indicate the keys are not usable and furthermore any attempt to use the keys in the key configuration portion of the program will leave Porta-Pinball in an endless loop and leave the user with no ability to launch a task manager to kill it, effectively requiring a soft-reset. One user reports the two buttons nearest the gamepad do work, but the two ouside buttons do not. I would recommend using the virtual touch-screen buttons instead, but reports are that doesn't work either. A fix has been implemented and is part of the next release, scheduled for June 2002.
Compaq Aero 2120: I have received negative reports on the Aero 2120 running Windows CE 2.11. The table is oriented incorrectly so only one half is displayed properly on screen. If you have upgraded to Pocket PC 3.0, you will need Julian Ortiz's unofficial GAPI or the Microsoft GAPI with Daniel Jackson's patch.
Casio Pocket PC 2002: Originally, Casio Pocket PC 2002 devices shipped with a buggy version of GAPI 1.2 that may result in loss of data if used. Get an updated GAPI at the Casio support web site.
Windows CE 2.x: GAMEX may not support some Windows CE 2.x devices, since it was a personal project of Hayes Haugen.
Pocket PC: GAPI may not support some newer Pocket PC devices until it is updated.
Menu Bars: Also, I have received some reports not specific to a product line or operating system. In some cases the menu bar does not come back after exiting Porta-Pinball when certain third-party menu bar replacements or enhancement programs are used. So far this has been reported only for Windows CE 2.x devices. The only solution may be to perform a soft reset by hitting the reset button on the back or bottom of the device. A soft reset will not affect applications that save data as it is entered, like the Tasks and Contacts applications, but it may cause add-on applications that explicitly load and save files to lose unsaved data.
Please report problems you encounter to webmaster@pocket.iwarp.com so they may be addressed in the next revision of Porta-Pinball...